Nautitech 40 Charter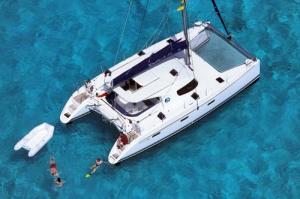 Description:
For more than 10 years, Nautitech Catamarans has been among the leading builders of catamarans.
Fast, easy to handle and amazingly spacious, this sailing catamaran is a role-model in her category.

Rates:
2.900€ per week from 09/01/10 to 12/15/10
4.400€ per week from 12/16/10 to 01/08/11
3.750€ per week from 01/09/11 to 05/31/11
3.350€ per week from 06/01/11 to 08/31/11
Including: Insurances and snorkeling gear.
Options : Skipper 160€/day, hostess 125€/day
One way and provisioning on request.
Specifications:
Capacity: 8 to 10 guests
Length: 40 ft
Width: 21 ft 33
Sailing area: 936.46 sqft
4 Double bed cabins
2 Single bed cabins
2 Toilets/Showers
Examples of destinations:
Sxm Saint Martin Yacht charters Department - yachting@sxmsaintmartin.com
© 2007 - VIRTUAL CONCEPTION - Web design - contact@sxmsaintmartin.com